"
Computer science and mathematics are 10 truly integral parts of life.
"
 

—

Pokegod
| | |
| --- | --- |
| | This user has been on the Polandball Wiki since 2016 |

Hi, I am no longer active on this Wiki or its Discord server. I used to be fairly active on this Wiki in the past but I have lost interest in it, mainly due to school and university did I forget to mention how badly it affected my performance in grade 11/year 12. That said I will probably update this page about once or twice a year.
Evidently you can view previous versions of my userpage if you wish.
Drawing Tutorial
To draw me, follow the flowchart below.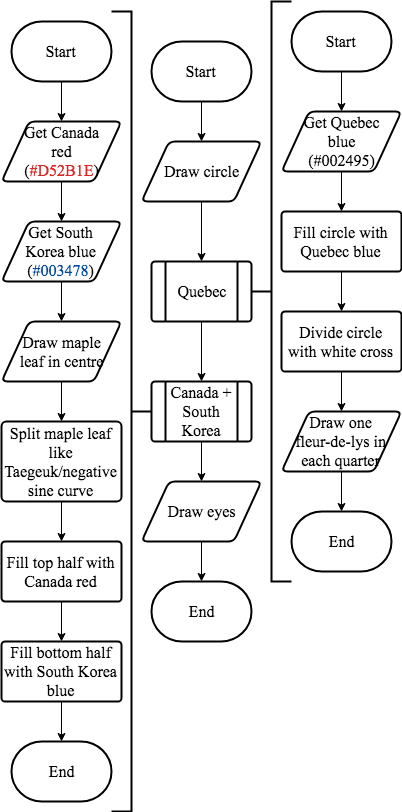 Comics I Have Created/Uploaded to Reddit
My career as an r/polandball artist was short-lived, and I am not sure if I can even say I am proud of it.
| Title | Upload Date |
| --- | --- |
| Pink Fluffy Kazakhstan (thread) | 1 October 2016 |
| A Two-Sided Discovery (thread) | 16 October 2016 |
| Messing with Romania (thread) | 12 November 2016 |
Countries I Have Visited
Up to this point, I have visited a total of 18 countries.
#
Country
Metropolitan Areas and Major Landmarks Visited
Month/Year of First Visit
1
South Koreaball
Anyang (place of birth), Seoul1, Jeju, Sejong, Busan, Gyeongju, Sokcho, other places I might have forgotten
My birth date (of course!)
2
Tringapore
Singapore
2003 (?)
3
Canadaball


3.1 Quebecball
3.2 Ontarioball

3.1 Montréal 1, Quebec City, Granby, Mont-Tremblant
3.2 Ottawa, Kingston, Toronto, Niagara Falls

3.1 Aug '03
3.2 Circa summer '04

4
USAball


4.1 Vermontball
4.2 New Yorkball
4.3 Illinoisball
4.4 Floridaball
4.5 Californiaball


4.1 Burlington
4.2 Buffalo, NYC
4.3 Chicago
4.4 Orlando
4.5 San Francisco Bay Area, Monterey (?)


4.1 Circa '04


4.2 Feb '06
4.3 Apr '07
4.4 June '07
4.5 June '13

5
Japanball
Osaka
July '10
6
Franceball
Paris, Versailles
May '11
7
Thailandball
Cannot list all; places visited most frequently: Bangkok1, Pattaya, Samut Prakan, Amphawa, Hua Hin/Cha Am, Chiang Mai
Oct '11
8
Hong Kongball
Hong Kong (both transfer and official)
Apr '12 (transfer), Nov '13 (official)
9
Malaysiaball
Kuala Lumpur
Dec '14
10
Uzbekistanball
Tashkent, Samarkand, Bukhara
Apr '15
11
Cambodiaball
Siem Reap
Oct '15
12
NepalRawr (FUN FACT: That is where I was the week prior to joining Wikia/Fandom :3)
Nagarkot, Kathmandu
Apr '16
13
Vietnamball
Hanoi, Ha Long
Feb '17
14
Netherlandsball
Amsterdam
Apr '17
15
Belgiumball
Bruges
Apr '17
16
Sri Lankaball
Colombo, Galle, Kandy
July '17
17
Taiwanball
Taipei and vicinity (both transfer and official)
Oct '17 (transfer), Dec '18 (official)
18
UKball


18.1 Englandball

18.1 London, Stonehenge, Bath, Oxford
18.1 Feb '19
19
Germanyball

Hamburg, Lübeck
Dec '19
1 Former place of residence, for a duration of 12 months or longer

In addition to the above table, I visited some places exclusively for transfer.
Country
Cities and/or towns
Month/Year of First Visit
Canadaball (British Columbiaball)
Vancouver
August 2003
USAball


A. Michigancube
B. OhioRawr

A. Detroit
B. Cleveland (extremely briefly)

A. June '10
B. July '10

Japanball
Tokyo
Oct '11
Chinaball
Beijing
Dec '15
Countries I Would Like to (Officially) Visit Someday
Numerous

European countries, notably:

Irelandball

Austriaball

Spainball

Portugalball

Switzerlandball

Italyball

Luxembourgball





Scandinavia+Finlandball+Icelandball

Russiaball

Ukraineball

Polandball
Czechiaball

Slovakiaball

Hungaryball

Sloveniaball

Croatiaball

Bosnia and Herzegovinaball

Serbiaball

Romaniaball
Greeceball

Cyprusball

Turkeyball

Azerbaijanball
And quite a few Asian countries too:
Chinaball

Macauball

Mongoliaball

Taiwanball

Bhutanball

Indiaball

Laosball

Philippinesball

Iranball (I would rather go there than to North Koreaball)

UAEball

Israelcube
Saudi Arabiaball
Others:

Moroccoball

Egyptball

Tanzaniaball

Namibiaball

South Africaball

Australiaball

New Zealandball

Canadaball:

USAball:

Mexicoball

Panamaball

Cubaball

Colombiaball (eventually the violence will clear up some day…)

Ecuadorball

Peruball

Argentinaball

Chileball

Brazilball
Legacy
During my time on this Wiki I drew many images to replace images violating r/polandball rules and created pages, many of which on Canadian cities.
Images Created
Here are some images I have created and uploaded to this Wiki.
Pages Created
Miscellaneous
These are simply images that I drew for non-formal purposes or for special occasions such as celebrations; in other words, these images would not go on the main Wikispace.
Images of Myself
And finally, here are some images of the previous version of my avatar.
Suggestions for Pages to Create
I had promised this Wiki these pages but never created them; you are therefore more than welcome to create them for me and thank you very much.
Iranian cities:
Other pages to create:
Goals
Surpass 1 000 edits - by November 2016 ACHIEVED! (18 September 2016)
Obtain the Addicted (100 days) badge - by October 2016 ACHIEVED! (15 October 2016)
Create 25 pages - by December 2016 Failed, never going to happen XD
Score 19th or higher on the leaderboard - by February 2017 Failed, also never going to happen XD
My life goal right now, other than earning my university degree, is to go to Llanfairpwllgwyngyllgogerychwyrndrobwllllantysiliogogogoch
Trivia and Miscellaneous
Ten Fun Facts About Me
Though I have never been to Central or South America, Africa, or Australia/Oceania before (in fact I have never even been below the equator), I do hope to visit them someday (at different times of course).
My personal best for solving a Rubik's Cube is 18.47 seconds (3 June 2017).
When I was very young, I watched Family Guy unaware that it was rated 14+.
I used to be a Brony from 2015-18. I 85% gave up MLP afterwards.
My very first Pokemon game is Pokemon LeafGreen.
The first programming language I ever learned was Java. (*If Scratch counts as a programming language then Scratch was my first programming language.)
I do not really care about Star Wars, except for the memes. Neither does my family.
I have cockroach phobia, which unfortunately appears to have evolved into PTSD. Please do not ask.
I am allergic to cats. It only takes less than five minutes for me to start sneezing and having a runny nose in a room full of cats.
I am autistic. Just treat me normally please…
Name in Other Languages
Language Family
Language
Name
Altaic1, Mongolic
Mongolian
Покебурхан
Altaic, Turkic
Bashkir
Покехоҙай
Altaic, Turkic
Kazakh
Покеқұдай
Altaic, Turkic
Kyrgyz
Покекудай
Altaic, Turkic
Tatar
Покеходай
Altaic, Turkic
Turkish
Poketanrı
Altaic, Turkic
Turkmen
Pokehudaý
Altaic, Turkic
Uyghur
پوكېتەڭرى
Altaic, Turkic
Uzbek
Pokexudo
Afro-Asiatic
Arabic
بوكيغود
بوكيكود
بوكيجود
بوكيقود
(transliterations)
Afro-Asiatic
Hebrew
פוקיאלוהים
Austroasiatic
Vietnamese
Thần Pokemon
Austronesian
Malaysian
Poketuhan
Austronesian
Tagalog
Pokemaykapal
Auxiliary Language
Esperanto
Pokedio
Indo-European, Baltic
Latvian
Pokedievs
Indo-European, Baltic
Lithuanian
Pokedievas
Indo-European, Celtic
Breton
Pokedoue
Indo-European, Celtic
Cornish
Pokeduw
Indo-European, Celtic
Irish
Pokedia, Pocedia
Indo-European, Celtic
Manx
Pokejee
Indo-European, Celtic
Scottish Gaelic
Pokedia
Indo-European, Celtic
Welsh
Pokeduw, Poceduw
Indo-European, Germanic
Afrikaans
Pokegod
Indo-European, Germanic
Alsatian
Pokegot
Indo-European, Germanic
Danish
Pokegud
Indo-European, Germanic
Dutch
Pokegod
Indo-European, Germanic
Faroese
Pokegud
Indo-European, Germanic
Flemish
Pokegod
Indo-European, Germanic
Frisian
Pokegod
Indo-European, Germanic
German
Pokegott
Indo-European, Germanic
Icelandic
Pokeguð
Indo-European, Germanic
Luxembourgish
Pokegott
Indo-European, Germanic
Norwegian
Pokegud
Indo-European, Germanic
Swedish
Pokegut
Indo-European, Indo-Aryan
Hindi
पोकेपरमेश्वर
Indo-European, Indo-Aryan
Urdu
پوکیخدا
Indo-European, Iranian
Ossetian
Покехуыцау
Indo-European, Iranian
Persian/Farsi
پوکخدا
Indo-European, Iranian
Tajik
Покехудо
Indo-European, isolate
Albanian
Pokezot
Indo-European, isolate
Greek
Ποκεθεός
Indo-European, Romance/Latin
Catalan
Poke Déu, Poque Déu
Indo-European, Romance/Latin
Corsican
Poke Diu, Poche Diu
Indo-European, Romance/Latin
French
Poké Dieu
Indo-European, Romance/Latin
Galician
Poke Deus, Poque Deus
Indo-European, Romance/Latin
Italian
Poke Dio, Poche Dio
Indo-European, Romance/Latin
Latin
Pokedeus
Indo-European, Romance/Latin
Neapolitan
Poke Diu, Poche Diu
Indo-European, Romance/Latin
Occitan
Poke Diu, Poque Diu
Indo-European, Romance/Latin
Portuguese
Poke Deus, Poque Deus
Indo-European, Romance/Latin
Provençal
Poke Diéu
Indo-European, Romance/Latin
Romanian
Poke Dumnezeu, Poche Dumnezeu
Indo-European, Romance/Latin
Sicilian
Poke Diu, Poche Diu
Indo-European, Romance/Latin
Spanish
Poke Dios, Poque Dios
Indo-European, Romance/Latin
Walloon
Poke Dieu, Poke Diè, Poke Diu
Indo-European, Slavic
Belarusian
Пакебог
Indo-European, Slavic
Bulgarian
Покебог
Indo-European, Slavic
Czech
Pokébůh
Indo-European, Slavic
Macedonian
Покебог
Indo-European, Slavic
Polish
Pokebóg
Indo-European, Slavic
Russian
Покебог
Indo-European, Slavic
Serbo-Croatian
Pokebog/Покебог
Indo-European, Slavic
Slovak
Pokeboh
Indo-European, Slavic
Slovene/Slovenian
Pokebog
Indo-European, Slavic
Ukrainian
Покебог
Language isolate
Basque
Pokejainkoa
Niger-Congo
Wolof
Pokeyàalla
Quechuan
Quechua
Pokepachamac
Sino-Tibetan
Chinese (Simplified)
宠物小精灵神
Sino-Tibetan
Chinese (Traditional)
寵物小精靈神
Tai-Kadai
Thai
พระเจ้าโปเกมอน
Uralic
Estonian
Pokejumal
Uralic
Finnish
Pokejumala
Uralic
Hungarian
Pokeisten
Uralic
Sami
Pokeipmil
Uto-Aztecan
Nahuatl
Poketeotl
Unknown, possibly Altaic
Japanese
ポケゴド (transliteration)
Unknown, possibly Altaic
Korean
포케가드 (transliteration)
Dialects and varieties are in italics
1 Whether the Mongolic languages are Altaic or not is currently disputed

Did I make a mistake? Did I forget your language? Is there a language you would like to see up there? You are always welcome to help me expand the list. Just leave a message in my pigeon hole but please do not edit this page directly! WE ARE NOT STOPPING UNTIL WE HAVE EVERY SINGLE LANGUAGE IN EXISTENCE!!! Scratch that, I am no longer around.
Democratic People's Republic of Korea & Republic of Korea : Divided Korea
Sovereign states
North Koreaball • South Koreaball
Future countries
United Koreaball
高丽?
West Koreaball • East Koreaball
Clay disputes
Dokdoball • Ieodoball • Rasonball • Jiandaoball

Republic of K-pop Korea, also known as South Korea

Provinces
Chungcheongbuk-doball • Chungcheongnam-doball • Southern Gangwondo-ball • Gyeonggi-doball • Gyeongsangbuk-doball • Gyeongsangnam-doball • Jeollabuk-doball • Jeollanam-doball • Jeju-doball
Metropolitan Cities
Seoulball • Busanball ( Dongnaeball) • Incheonball ( Songdo IBDball) • Daejeonball • Daeguball • Gwangjuball • Sejongball ( Jochiwonball) • Ulsanball
Cities
Suwonball • Cheongjuball • Goyangball• Ansanball • Pajuball • Gwangjuball • Hanamball • Uijeongbuball • Guriball • Bucheonball • Seongnamball • Seosanball • Asanball • Anyangball • Dangjinball • Gongjuball • Ieodoball
Counties
Pyeongchangball • Ullengball (Dokdoball)

"Democratic" People's Republic of Korea, also known as True North Korea

Provinces
Hamgyeongbuk-doball • Hamgyeongnam-doball • Hwanghaebuk-doball • Hwanghaenam-doball • Northern Gangwon-doball • Pyeonganbuk-doball • Pyeongannam-doball • Jagang-doball • Yanggang-doball
Cities
Pyongyangball ( Ryugyong-dongball) • Rasonball • Nampoball • Sinuijuball • Kaesongball • Hamhungball • Chongjinball • Wonsanball Sariwonball

Others

Former entities
Migrants from North • Gojoseonball • Korean Jinball • Buyeoball • Okjeoball • Dongyeball • Mahanball • Jinhanball • Byeonhanball • Goguryeoball • Sillaball • Baekjeball • Gayaball • Balhaeball • Tamnaball • Goryeoball • Joseonball • Korean Empireball • Japanese Koreaball • People's Republic of Koreaball • American Koreaball • Soviet Koreaball • Provisional People's Committee for North Koreaball • Supreme Council for National Reconstructionball
Korean religions
Muism • Cheondoism • Korean Buddhism • Kimilsungism
Korea STRONK! Remove Sushi Remove MERS-CoV! Never forgettings 1945 ~ Both Koreaballs


K-POP FOREVER!!! ~ South Koreaball
NORTH KOREA TRUE AND BEST KOREA! ~ North Koreaball
$ \forall \epsilon > 0, \exists \delta > 0, 0 < |x-c| < \delta \Rightarrow |f(x)-L| < \epsilon $
Community content is available under
CC-BY-SA
unless otherwise noted.