Tell me what happened to this world. Like how it all came to become this
Some notes
The China in this world is PR China not ROC
Blakc areas contain radiation
the year is 2200
All the Gray land is unclaimed
A bit of Lore
It was 2050, The United States had just launched a full scale invasion on North Korea, Upon Pyongyang's conquest, Kim Jong Un immediatly orders the nuking of all western nations along with South Korea, Japan, India, Russia and a large part of the Middle East, After Using up all their Nukes, China launched a Surprise invasion on north korea. China Largely Survived due to them reatining neutrality throughout the war.
Continue from this. 
Le Map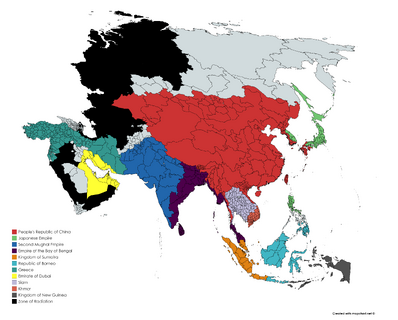 Community content is available under
CC-BY-SA
unless otherwise noted.