Voting
Voting is in a big role in PWSC. With voting, nations can decide who will win PWSC and will host the next edition of PWSC. Voting is really simple and it should not take a lot of time. Every nation that is taking part of the current edition of Polandvision needs to vote. If you don't vote, you will get banned for one edition.
There are some rules that you should know when you vote:

You can't vote your nation
You can't vote one nation multiple times
You can't skip any votes

Voting is not free for everyone
Scoreboard
http://polandballwikisongcontest.wikia./wiki/Scoreboard_for_Song_Contest_I This is the scoreboard for the contest voting.It will be edited every time someone votes.
Informations
Other links
Voting Example
Here is an example but count on Procimus vote (he will vote first)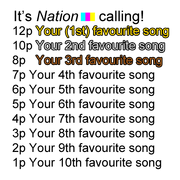 Trophy
Also
The voting starts at 11:00,10th July (Eastern European Zone)
Recap Video
Voting is over,see the Score in comments
Community content is available under
CC-BY-SA
unless otherwise noted.