This page requires sanitation.
This page needs more accurate, less vandalistic/biased information or better formatting, it would be much appreciated to help!
←

11 February 1929 - Present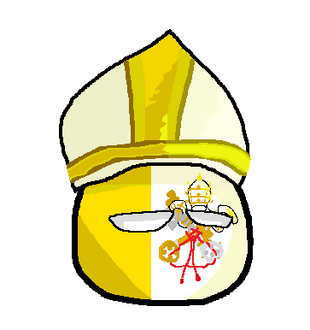 General information
Personality
HOLY, HOLY AND MORE HOLY
Is of importants
Can into space?
Can into everything and anything as God is everywhere.
Deus Vult, Deus Vult! Pope Pope
Food
Same as
Italyball
Status
• Pope wants to visit

South Sudanball
's clay.
• Forms his own Olympic Team; now aiming for the 2020 Summer Olympics in

Japanball
Notes
Is a city-state, has a $2,000,000,000 bathtub
"
CHRISTIANIZE ALL THE KINGDOMS!!
"
 

— Vaticanball
"
Pater noster, qui es in Caelo,

Sanctificetur nomen tuum, Adveniat regnum tuum: fiat voluntas tua, De Tellure in Caelo quasi. Da nobis hodie panem nostrum cotidianum Et dimitte nobis debita nostra, Sicut et nos dimittimus debitoribus nostris; Et ne nos inducas in tentationem; Sed libera nos a malo. Amen.

"
 

—

Vaticanball
"
Following the fire that ravaged a large part of Notre Dame Cathedral, I join you in your sorrow, as well as that of the faithful of your diocese, the inhabitants of Paris, and all the French people.
"
 

—

Pope Francis on the Notre Dame blaze
The

Vaticanball, or Holy Seeball, or Vatican Cityball is the Pope and the ruler of the world an European countryball and an enclave of
Italyball, and furthermore

Romeball. The Vaticanball cannot be divided into any sort of administrative divisions due to it's land of only 109 acres (Even smaller than Central Park), making her the smallest countryball in the world although he wants the world to worship on Sunday which means he wants to rule the world as he wishes. As of 2017, he maintains a population of about 800 inhabitants.
Relationships
Friends
They're friends with almost every country in the world, but special mentions go to the following countries:
Neutral
Enemies
She hates war freaks,

commies, and

atheists (sometimes)...
Former Enemy/Neutral-Enemy
Flag Colors
Main Colors
Color Name
RGB
CMYK
HEX
Golden Yellow
255, 225, 0
C0-M12-Y100-K0
#FFE100
White
255, 255, 255
N/A
#FFFFFF
Emblem Colors
Color Name
RGB
CMYK
HEX
Golden Yellow
255, 225, 0
C0-M12-Y100-K0
#FFE100
White
255, 255, 255
N/A
#FFFFFF
Chinese Silver
205, 205, 205
C0-M0-Y0-K20
#CDCDCD
Red
255, 0, 0
C0-M100-Y100-K0
#FF0000
How to draw
Drawing Vaticanball can be pretty hard:
Draw a black circle.
Cut it in half vertically with a yellow line.
Fill the left half with yellow.
Draw the coat of arms on the white half. Use Wikipedia to get the correct shape and colours.
Draw the Mitre on top of the circle, or cross, if preferred.
Draw eyes and you're finished.
Gallery

Related templates

Community content is available under
CC-BY-SA
unless otherwise noted.