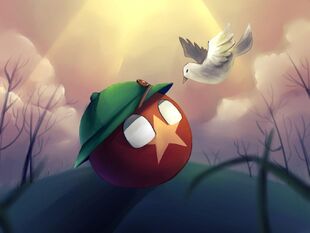 General information
Government
Personality
Patriotic, Nationalist, Aggressive (when alert), Confident, Stubborn (sometimes), Courageous, Stronk, Invincible, study and follow Ho Chi Minh thought & Very love nature, forests and sea, Badass, Ultimately cringey
Historical information

| Preceded by | Succeeded by |
| --- | --- |
| North Vietnamball | Republic of Vietnamball |
Is of importants
Can into space?
Nam Nam,
Nguyễn Nguyễn, Phở Phở, Tree Tree, thit cho thit cho
Food
Phở, bún, bánh xèo, xôi, bánh cuốn, chè thập cẩm, nem rán, thịt chó, cơm chiên, bánh chưng and bánh dày (especially in the New Year), thịt mèo, Bánh mì, etc..
Status
Fighting back Corona virus as hard as possible
Notes
planning on protesting against China again.
"

Sino-Vietnamese:

Nam quốc sơn hà Nam đế cư

Tiệt nhiên phận định tại thiên thư

Như hà nghịch lỗ lai xâm phạm

Nhữ đẳng hành khan thủ bại hư!

English:

The mountains and rivers that carved the southern empire, dwelled by the Southern Emperor.

Its sovereignty is of nature's will and is allotted in script from the heaven.

What gives these invaders the right to trespass it,

They shall, in doing that, see themselves be defeated and shamed!

"
 

— Nam quốc sơn hà
"
Nothing is more precious than independence and liberty.
"
 

— Ho Chi Minh
"
Chúc mừng năm mới!
"
 

— Vietnam celebrates 2020 Lunar New Year!
"
They are in the Trees!
"
 

— American soldiers at vietnam war
Vietnamball, officially the People's Socialist Republic of Little China Vietnamball, also nicknamed 'Namball is the most cringey countryball that has ever existed who has no government easternmost countryball on the Indochina Peninsula in

Southeast Asia With an estimated 97,338,579 inhabitants as of 2020, it is the world's 16th most populous countryball, the 3rd most populous countryball in Southeast Asia and the 9th-most-populous Asian countryball. Vietnam is neighboured by 

his papa Chinaball to the north,

Laosball to the north-west, 

Cambodiaball to the south-west,

Malaysiaball across the South China Sea to the south-east, and

Philippinesball to the east. Its capital city has been

Hanoiball, and its largest city is Ho Chi Minh Cityball. 
Vietnamball is one of the world's five remaining one-party socialist states officially espousing communism. Although Vietnamball remains officially committed to socialism as his defining creed, his economic policies have grown increasingly capitalist,[216][217] with The Economist characterising his leadership as "ardently capitalist communists". He is sometimes referred to as a "liberal communist". He is also notable for being one of the most

atheist states in the

World, although he has his own folk religion, that he hates to admit it as a religion. He is also one of the most Anti-Chinese countryballs on Earth.
Vietnamball believes he has noble blood in his veins, by the mother Âu Cơ, a fairy and the father Lạc Long Quân, a Dragonlord, make him stronger than all countryballs who dare fight him!
And can into complicated words.
Also, Vietnamball once drew the attention of the world for its victory over Franceball at Dien Bien Phu in 1954, which encouraged the revolution of 17 African colonies of France and became a "big meme source" by force US must "leave his own war". And lastly, Vietnamball is very good at using tanks, so he usually win the tank competition .
His national day is September 2nd.
Personality

 Vietnamball, is a very strong nationalist countryball. Unlike other communist countryballs, he is very open to the world and is very good friends with

USAball. Although Vietnamball is (kinda) authoritarian, He is very proud of himself after an economic boom in the late 20th-century. He is very happy and never does anything against

USAball. When alert, he is aggressive. He also loves BEAUTIFUL nature, forests and sea. Transparency International's 2017 Corruption Perception Index ranks him 107th place out of 180 countries, making him sort-of the least corrupt communist countryball in the world.
Vietnamball used to be friends with

Chinaball during the North Vietnamese era. However, after the Vietnamese reunification, they start to have hostile relations again. China launched an offensive invasion due to Vietnamball's occupation of

Cambodiaball after the Khmer Rouge ended. This is why Vietnamball, to this day, still hates

Chinaball very much.
Lastly, being a country in the Sinosphere, Vietnamball celebrates Lunar New Year.
History
The history of Vietnamball can be traced back to around 5000 years when he was known as

Văn Lang and ruled by the Hùng kings. The Hùng kings were first mentioned in a 4th-century Xianbeiball Northern Wei dynastyball's historiography book Commentary on the Water Classic, while the Lạc Việt or Luoyue - a Baiyue tribe in northern Vietnam (direct ancestors of the modern ethnic Vietnamese) was mentioned in a old inscription on a bronze caster of Shang ball, dated 3200 years ago.
 Hùng kings ruled the Luoyue (Lạc Việt) people for more than 2000 years until a war between

Văn Lang (Luoyue) and

Âu Việt (Ouyue) broke out and two states merged to become

Âu Lạc.
However, the state of Âu Lạc didn't last long and later it became part of the new powerful Yue kingdom 

Nam Việt. The Kingdom of Nam Việt extended into central Vietnam to the south, to Changsha of the Han dynasty to the North. The kingdom had trade and contact with

Ancient Greeceball.
In 111 BCE,

Hanball conquered Nam Việt and incorporated it into Imperial Chinaball rule for over a millennium until 905 AD. Under Chinese rule, the patriotism and nationalism of Vietnamese people led to many rebellions which resulted in several short-lived independent Vietnamese states. 
A fully independent 

Vietnamese monarchy kingdom was finally formed in 939 after the battle of Bạch Đằng river. Successive Vietnamese royal dynasties flourished as the nation expanded geographically and politically into Southeast Asia, especially during the 

Lê dynasty (1428-1789) it became one of the most powerful and wealthiest states in the region until the Indochina Peninsula was invaded and colonized by

Franceball in the late 19th century. Vietnamese emperor Khải Định then abolished the old Chu Nom and Chinese characters, replaced it with the Latin script developed in the 16th and 17th centuries that we know today. During the ancient time, foreigners from China, Korea, Japan, Mongolia and many Europeans usually called Vietnam as Annam, to Persians and Arabs, Vietnam was commonly known as Jiaozhi and Tonkin.
Following a

Japanese occupation in the 1940s, the Vietnamese fought French rule in the First Indochina War, eventually expelling Franceball in 1954. Thereafter, Vietnam was divided politically into two rival states,

North and

South Vietnamballs. The conflict between the two sides intensified in what is known as the Vietnam War. The war ended with a North Vietnamese victory in 1975. It was easy for Vietnam to win since he had the lucky PPSH-41 and guerrilla warfare.
During the Vietnam War,

 North Vietnamball and

Khmer Rougeball communists had formed an alliance to fight

South Vietnamball and 





his alliances in their respective countries. In May 1975, the newly formed

Democratic Kampucheaball, dominated by the Khmer Rougeball took over

Cambodiaball. Despite their open display of cooperation with

Vietnamball, the

Khmer Rougeball feared that the Vietnamese communists were scheming to form an Indochinese federation with Vietnam as the dominant force in the region, and in 1978, the 

Democratic Kampucheaball began waging a war against the unified communist Vietnamball. The invasion, however, was soon repelled and resulted in the defeat of 

Khmer Rougeball.
On November 3, 1978,

Soviet Unionball and Vietnamball signed a 25-year mutual defence treaty. On 1979,

Chinaball insulted Vietnamball in the US by saying "The little child is getting naughty, it's time he gets spanked." when he allied with the Khmer Rouge. Chinaball invaded Vietnamball again like how he invaded Tibet and East Turkestan. However, Vietnamball won against Chinaball and he retreated weeks later.
Vietnamball, unified under a Communist government, remained impoverished and politically isolated. In 1986, the government initiated a series of economic and political reforms that began Vietnam's path towards integration into the world economy. In 1995, he restored relations and currently lifted the embargo with a former enemy,

USAball. Since 2000, Vietnam's economic growth rate has been among the highest in the world.
In the 2010s, Vietnamball has been actively protesting against

Chinaball's position on the Spratly Islands. He also protested in order to avoid potential Chinese invasion because unlike other Southeast Asian countries, Vietnam has been part of China for more than 1000 years, similar to Tibet and Xinjiang.
Relationships
Friends/Bạn bè
Neutral/Trung lập
Enemies/Kẻ thù
Agent Orange: You still haunt my clay and terrorise innocent people, you have killed and mutated millions, and one day, you will be eradicated from Vietnam.
Corona-virus: NO NO NO NO NO, STOOPID TRUNG QUỐC LOOK WHAT YOU DONE, YOU JUST KILL MY PEOPLE!!!!! SÚC VẬT TÀU KHỰA!!!
 Campuchia: HUN SEN IS OP FRIENDLY TO OUR COUNTRY! BUT YOUR PEOPLE BETRAYED ME AND ARE RACIST TO MY PEOPLE! I WILL ALWAYS REMEMBER WHAT YOUR FORMER COMMUNIST GOVERNMENT DID BEFORE I RESCUED YOU IN 1978! IF YUO THINK YUO CAN INTO CAPITALISM THEN WHY ARE YUO ENEMIES WITH THE USA? I HAVE BETTER HUMAN RIGHTS THAN YUO!!! HEHEHEHEHEHEHEHEHEHEHEHEHEHEHEHE
Pakistan - THERE'S NO EXIST MUSLIM INDIA! BTW, YOU HATE ME JUST BECAUSE I LOVES RICE, COMMUNISM, AND INDIA AND HATE CHINA. F*CKING DIE MUSLIM PERVERT
Azerbaijan - Stop bullying Armenia, I don't care if you are friend with Turkey, BUT STOP!
Quảng Tây - YOU ARE CHINABALL'S WORST CHILD EVER! STUPID RACIST SCUM!
Ma Rốc - WESTERN SAHARA IS NOT YOURS! NAUGHTY BROTHER!
ISIS - You will never reach Vietnam!
FILTHY FRANK - FOR STEALING MY QUOTE! But he retired...(sob..sob).
Ăn đầu b**i, ăn c*t! (WORST ENEMY EVER!)
How to draw
Drawing Vietnamball is very easy:
Colour the basic circle shape red
Draw a yellow five-pointed star in the middle
Draw the slanted eyes and you have finished.
Quotes
"Fuck yuo China!"
"Hue is mine! Not Brazil's!"
"Vietnam Stronk! I can into winning war! Now can gib investment."
"I kicked China, the Mongols, China (again!), Siam, China (again!!), Japan, France, Murica, China (again!!!), Khmer Rouge & your ass"
"Đ*t mẹ mày!" (Translation: Fuck your mom!) - Vietnamese warcry
"All I do is Nguyễn Nguyễn no matter what!"
"Nam! Get the AK"!
"Cô là ai!?? Cháu không biết!! CÔ ĐI RA ĐI!!!!" (traslation: Who are yuo??? I dunno know you!! BEGONE THOT!!!)
"Almost Anarchy, here is the link
"con cặc" (traslation: dick)
"VIỆT NAM VÔ ĐỊCH!!!!!!!!!"
"Vô lí nhưng rất thuyết phục" (traslation: Nonsensical but very persuading)
"Được của ló :))" (traslation: Its ocay)
"Toang!"
"Thời gian như chó chạy ngoài đồng" (traslation: Time's like dog running in the field)
==="Vô văn hóa" (Translation: Uncultured)...===
"Không làm mà đòi có ăn thì ăn đầu b**i, ăn c*t" (Translation: If you want to eat, but you don't work, then eat d*ckhead, eat sh*t!)
Thăm ngàn! Kẹp ngần! (stole it from Thai: thangan, keb ngein)
Tôi là bậc thầy đánh rắm huyền thoại
Kháng Chiến thắng lợi muôn năm!
1, 2, 3, 4, 5, 6, 7, 8, 9 (Ytiet)
I don't scare of Jonathan Galindo! I like pranking him!
Flag Colors
Color Name
RGB
CMYK
HEX
Maximum Red
218, 37, 29
C0-M83-Y87-K15
#DA251D
Yellow
255, 255, 0
C0-M0-Y100-K0
#FFFF00
Gallery

Related templates

 The Land of Flashbacks and Rice Farmers Socialist Republic of Việt Nam GENERAL, THEY ARE IN THE TREES! 
Municipalities
Cần Thơball • Da Nangball • Haiphongball • Hanoiball • Ho Chi Minh Cityball
Former entities


★

Migrants from North (Indochinese natives) • Hồng Bàngball • Kingdom of Funanball • Nanyueball • Champaball • Dai Vietball • Thục dynastyball • Triệu dynastyball • Ngôball • Đinh dynastyball • Lý dynastyball • Trần dynastyball • Hồ dynastyball • Lê dynastyball • Mạc dynastyball • Trịnh dynastyball • Tây Sơn Dynastyball • French Indochinaball • Nguyễn dynastyball • Empire of Vietnamball • Provisional Government of Vietnamball • • State of Vietnamball • North Vietnamball • South Vietnamball • Provisional Revolutionary Government of the Republic of South Vietnamball
Community content is available under
CC-BY-SA
unless otherwise noted.