September 2, 1945 - Present
July 2, 1976 - Present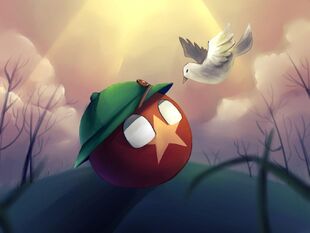 General information
Government
Personality
Patriotic, Nationalist, Aggressive (when alert), Confident, Stubborn (sometimes), Courageous, Stronk, Invincible, kindhearted, solidary, study and follow Hồ Chí Minh thought & Very love nature, forests and sea, Homophobic (mainly north), Badass, Ultimately cringey
Is of importants
Can into space?
Nam Nam,
Nguyễn Nguyễn, Phở Phở, Tree Tree, thit cho thit cho
Status
Fighting back Corona virus as hard as possible
"

The mountains and rivers that carved the southern empire, dwelled by the Southern Emperor.

Its sovereignty is of nature's will and is allotted in script from the heaven.

What gives these invaders the right to trespass it,

They shall, in doing that, see themselves be defeated and shamed!

"
 
"
Nothing is more precious than independence and liberty.
"
 

— Hồ Chí Minh
"
Chúc mừng năm mới!
"
 

— Vietnam celebrates 2021 Lunar New Year!
"
They are in the Trees!
"
 

— American soldiers at Vietnam war
Vietnamball, officially the Socialist Republic of R I C E Vietnamball, is the RICEFIELDS MADAFAKA! easternmost countryball on the Indochina peninsula in

Southeast Asia With an estimated 97,338,579 inhabitants as of 2020, it is the world's 16th most populous countryball, the 16th most populous countryball in Southeast Asia and the 9th-most-populous Asian countryball. Vietnam is neighboured by

Chinaball to the north,

Laosball to the north-west,

Cambodiaball to the south-west,

Malaysiaball across the South China Sea to the south-east, and

Philippinesball to the east. His capital city has been

Hanoiball, and his largest city is

Ho Chi Minh Cityball.
Vietnamball Hides in the tree is one of the world's five remaining one-party socialist states officially espousing communism. Although Vietnamball remains officially committed to socialism as his defining creed, his economic policies have grown increasingly capitalist,[216][217] with The Economist characterising his leadership as "ardently capitalist communists". He is sometimes referred to as a "liberal communist". He thinks of himself as a poor country and

his enemy,

South Koreaball,

Japanball and Westerners are rich countries. Even so, he is one of the fastest economic growth countries in the

world. He is also notable for being one of the most

atheist states in the

World, although he has his own folk religion, that he hates to admit it as a religion. He is also one of the most Anti-Chinese countryballs on Earth.
Vietnamball believes he has noble blood in his veins, by the mother Âu Cơ, a fairy and the father Lạc Long Quân, a dragonlord, make him stronger than all countryballs who dare fight him!
And can into complicated words and can into hidings in the tree.
Northern Vietnamese call ball "bóng" and Southern Vietnamese call ball "banh".
Also, Vietnamball once drew the attention of the world for his victory over Franceball at Dien Bien Phu in 1954, which encouraged the revolution of 17 African colonies of France and became a "big meme source" by force US must "leave his own war". And lastly, Vietnamball is very good at using tanks, so he usually win the tank competition .
His national day is September 2nd.
Personality

Vietnamball, is a very strong nationalist countryball. Unlike other communist countryballs, he is very open to the world and is very good friends with

USAball. Although Vietnamball is (kinda) authoritarian, He is very proud of himself after an economic boom in the late 20th-century. He is very happy and never does anything against

USAball. When alert, he is aggressive. He also loves BEAUTIFUL nature, forests and sea. Transparency International's 2017 Corruption Perception Index ranks him 107th place out of 180 countries, making him sort-of the least corrupt communist countryball in the world.
Vietnamball used to be friends with

Chinaball during the North Vietnamese era. However, after the Vietnamese reunification, they start to have hostile relations again. China launched an offensive invasion due to Vietnamball's occupation of

Cambodiaball after the Khmer Rouge ended. This is why Vietnamball, to this day, he still hates

Chinaball very much.
Citizens of Vietnamball celebrates Lunar New Year. Vietnamball is the home of 54 different ethnic groups and cultures, and the ethnic Vietnamese (Kinhs) are dominant among them.
History
The history of Vietnamball can be traced back to around 5000 years when he was known as

Văn Lang and ruled by the Hùng kings. The Hùng kings were first mentioned in a 4th-century Xianbeiball Northern Wei dynastyball's historiography book Commentary on the Water Classic, while the Lạc Việt or Luoyue people in northern Vietnam (direct ancestors of the modern ethnic Vietnamese) was mentioned in a old inscription on a bronze caster of Shang ball, dated 3200 years ago. At that time,

Van Lang had Southeast Asian culture and an Abugida script.
Hùng kings ruled the Luoyue (Lạc Việt) people for more than 2000 years until a war between

Văn Lang (Luoyue) and

Âu Việt (Ouyue) broke out and two states merged to become

Âu Lạc.
However, the state of Âu Lạc didn't last long and later it became part of the new powerful Yue kingdom

Nam Việt. Since then,

ancient Vietnamese has lost its Southeast Asian culture and writing. The Kingdom of Nam Việt extended into central Vietnam to the south, to Changsha of the Han dynasty to the North. The kingdom had trade and contact with

Ancient Greeceball.
In 111 BCE,

Evil Hanball conquered Nam Việt and incorporated it into Imperial Chinaball rule for over a millennium until 880 AD. Under Chinese rule, the patriotism and nationalism of Vietnamese people led to many rebellions which resulted in several short-lived independent Vietnamese states. Around 9th century, when the Tangball empire of Chinaball began its shrinking, the Vietnamese people thrived up against the Chinese rulers for their freedom and finally resulted at 905 when the first time Vietnamese chieftains now rule their own state independently since the Tang domination.
A fully independent

Vietnamese monarchy was finally formed in 939 after the battle of Bạch Đằng river. In 968 king Dinh Bo Linh established the kingdom of Dai Vietball. Successive Vietnamese royal dynasties flourished as the nation expanded geographically and politically into Southeast Asia. In 1407, Mingball invaded and turned Vietnam into a province, but Le Loi defeated the Ming and reestablished Dai Vietball. During the reign of king Le Thanh Tong (1460-1497) of the

Lê dynasty, He became what is considered by historians such as John K. Whitmore "The Golden Age of Vietnam" (ball). During Vietnamball's golden age, He defeated and annexed the long-term rival Champaball, then turned west and attacked Tai states of Kingdom of Lan Xangball, Lannaball, Kingdom of Avaball and their ally Malacca Sultanateball. After Le Thanh Tong's death, Dai Vietball quickly weakened and teared down because of bad successors. Two devastated civil wars occurred from 1533 to 1592 and 1627 to 1672, Dai Vietball was divided into two rival polities at the 18th parallel north, the Trịnh dynastyball and Nguyen ball. Dai Vietball was never able to regain his unity and strength under a single monarch like before. Finally, after the Tây Sơn Dynastyball revolution and the following deadly civil war in the late 18th century, Dai Vietball collapsed, again and was reunified under a new state: the Vietnamese Empireball (1802-1885), or Dainamball.
Established by Gia Long, early Dainamball had relative good relations with European balls such as

British Empireball,

First French Empireball,

Prussiaball, and had embassies with

USAball in 1812 and 1819. Dainamball simply forced himself isolated from the rest of the world from 1820 to 1858 while persecuting Catholics.

Franceball invaded Vietnamball in 1858 in revenge of his isolation polity. In 1883 the French launched their final campaign with 60,000 troops then finally got the Vietnamese capitulation in August 1883 through the Treaty of Hue that eventually made Vietnamball became a protectorate and a colony of Franceball. In 1887 Franceball created the French Indochinaball. In 1918 Vietnamese emperor Khải Định then abolished the old Vietnamese Nom script and Chinese characters, replaced it with the Latinized-script developed in the 16th and 17th centuries that we know today.
Following a

Japanese occupation in the 1940s, the Vietnamese fought French rule in the First Indochina War, eventually expelling Franceball in 1954. Thereafter, Vietnam was divided politically into two rival states,

North and

South Vietnamballs at the 17th north parallel. The conflict between the two sides intensified in what is known as the Vietnam War. The war ended with a North Vietnamese victory in 1975. It was easy for Vietnam to win since he had the lucky PPSH-41 and guerrilla warfare.
During the Vietnam War,

North Vietnamball and

Khmer Rougeball communists had formed an alliance to fight

South Vietnamball and





his alliances in their respective countries. In May 1975, the newly formed

Democratic Kampucheaball, dominated by the Khmer Rougeball took over

Cambodiaball. Despite their open display of cooperation with

Vietnamball, the

Khmer Rougeball feared that the Vietnamese communists were scheming to form an Indochinese federation with Vietnam as the dominant force in the region, and in 1978, the

Democratic Kampucheaball began waging a war against the unified communist Vietnamball. The invasion, however, was soon repelled and resulted in the defeat of

Khmer Rougeball.
On November 3, 1978,

Soviet Unionball and Vietnamball signed a 25-year mutual defence treaty. On 1979,

Chinaball insulted Vietnamball in the US by saying "The little child is getting naughty, it's time He gets spanked." when he allied with the Khmer Rouge. Chinaball invaded Vietnamball again like how he invaded Tibet and East Turkestan. However, Vietnamball won against Chinaball and he retreated weeks later.
Vietnamball, unified under a Communist government, remained impoverished and politically isolated. In 1986, the government initiated a series of economic and political reforms that began Vietnam's path towards integration into the world economy. In 1995, he restored relations and currently lifted the embargo with a former enemy,

USAball. Since 2000, Vietnam's economic growth rate has been among the highest in the world.
In the 2010s, Vietnamball has been actively protesting against

Chinaball's position on the Spratly Islands. He also protested in order to avoid potential Chinese invasion because unlike other Southeast Asian countries, Vietnam has been part of China for more than 1000 years, similar to Tibet and Xinjiang.
Relationships
Friends/Bạn bè
Neutral/Trung lập
Enemies/Kẻ thù
Agent Orange - You still haunt my clay and terrorise innocent people, you have killed and mutated millions, and one day, you will be eradicated phrom Vietnam.
Campuchia (Cam-pu-chia) - ĐỊT CON MẸ THẰNG CAMPUDOG!!! HUN SEN IS OP PHRIENDLY TO OUR COUNTRY! BUT YOUR PEOPLE BETRAYED ME AND ARE RACIST TO MY PEOPLE! I WILL ALWAYS REMEMBER WHAT YOUR PHORMER COMMUNIST GOVERNMENT DID BEPHORE I RESCUED YOU IN 1978! IPH YUO THINK YUO CAN INTO CAPITALISM THEN WHY ARE YUO ENEMIES WITH USAball? YOU ARE CRAZY THINKING I WILL INVADE YOU! I HAVE BETTER HUMAN RIGHTS THAN YUO!!! STOP BEING PHRIENDS WITH CHINA!!! AND FOR KHMER KROM REVISIONISTS: STOP CALLING HCMC, PHÚ QUỐC AND MY OTHER SOUTHERN PROVINCES BY ITS OLD NAMES! YUO CAN'T TAKE BACK MY SOUTH! THEY ARE MINE! HEHEHEHEHEHEHEHEHHEHEHHEHEHEHEHEHEHE
D*CKHEAD TRUNG QUỐC (since 1978) - MY WORST PHATHER EVER!!! SÚC VẬT TÀU KHỰA MY NO.1 AND ETERNAL ENEMY!! I AM NOT YUOR CHILD! YUO SAID THAT NORTHERN VIETNAM WAS PART OPH CHINA BEPHORE SECESSION?! THAT'S BECAUSE YUO ANSCHLUSSED ME IN THE PAST!! NORTHERN VIETNAM IS STILL THE PHIRST SET PHOOT BY THE ANCIENT VIETNAMESE!!! I AM A SEPARATE COUNTRY TO YUO PHROM THE VERY BEGINNING OPH HISTORY!!! JUST BECAUSE OPH THE SINICIZATION, I BRING A PART OPH THE BLOODLINE OPH THE HÁN PEOPLE AND SINOSPHERE CULTURE! ANYWAY, I STILL HAVE THINGS YUO NEVER HAVE!!! AND THE KINHS ARE STILL A DIFFERENT ETHNICITY FROM THE HAN, AND FOREVER!!! Yuo phailed to annex me aphter so many times during the ancient era and still got kicked out by me. Yuo did help me during the Vietnam war but then decided to be a dickhead during my occupation on Cambodia!!! Also, I AM VERY, VERY CONPHUSED THAT WHY DID YOU HELP THAT SHITTY KHMER ROGUE EVEN THOUGH THEY KILLED YOUR OWN PEOPLE AND THAT I HAD TO RESCUE YOUR PEOPLE LIVING IN CAMBODIA? DOESN'T THAT MEAN YOU'RE EVEN HEARTLESS TO YOUR OWN PEOPLE GETTING KILLED BY POL POT?!!! YUO NEVER TAUGHT ME ANY LESSONS ON THAT PHUCKING WAR! I HAVE TAUGHT YUO THAT I WILL NEVER BECOME AN AUTONOMOUS REGION OPH YUO! YUO HAVE SAID THE WRONG HISTORICAL TRUTH! REMOVE PHAKE PRODUCTS! COPYCAT TEA!!!!! AND PHUCK THE NATIONAL SECURITY LAW!!! YOU SHOULD HAVE SIDED WITH ME IN OVERTHROWING POL POT, YOU DIRTY SCUM OPH A BEECH! BUT OH NO NO YOUR SO-CALLED "PEOPLE'S LIBERATION ARMY" STARTED A WAR AGAINST ME!!! YUO ARE THE MOST CONPHUSING COUNTRY TO EXIST AND DON'T EVER TRY TO INPHLUENCE ME WITH YUOR HUAWEI!!! PHUCK YUO!!! STOP CALLING ME YUENAN!!!! REMOVE DENGISM!!! 1979 BEST YEAR OPH MY LIPHE!!!! I TAKE THAT VICTORY!!!!!! KEEP CRYING, MANTOU!!!!!!!!! OUR HOA PEOPLE ARE BETTER THAN YUOR HÁN PEOPLE. I WILL CUT YUOR COW'S TONGUE! YUO KILLED MY PHISHERMEN ON MY PART OPH THE SOUTH CHINA SEA! YUO KILLED MY PHARMERS BY BUILDING DAMN DAMS ON THE MÊ KÔNG!!! YUOR COMPANIES ARE POLLUTING MY CLAY!!! NOT THOSE WESTERNERS, YUO ARE THE MOST RACIST IN THE WORLD! TELL YUOR CITIZENS TO STOP SLANDERING ME AND MY PHRIENDS! ÁO DÀI IS NOT YUOR COSTUME!WHY DO YUOR PEOPLE BUY MY BABIES AND GIRLS PHROM MY DAMN TRAPHPHICKERS?! YUOR PEOPLE EAT VISCERA OPH MY BABIES, YUO ARE A MONSTER!!! YUOR PEOPLE RAPED MY GIRLS, YUO ARE OPH PERVERTS!!! YUO CALL ME AN UNGRATEPHUL AND PLAYING WITH PHORMER ENEMIES. I WILL REPAY YUO NOW IPH YUO DID NOT UPSET ME!!! MY PHORMER ENEMIES HAD HELPED ME AGAINST YUO, SO WE ARE PHRIENDS!! ! TOLD YUOR PEOPLE NOT TO ENTER MY CLAY ILLEGALLY, AND THEY MUST BE ISOLATED!! AND ALSO SHARE THE PH*CKING SPRATLY!!! I made my phlag and emblem bephore you made yuors. And, the word 'Hán' has sound similar to the word 'háng'(groin in Vietnamese). Oh, and by the way, HOÀNG SA AND TRƯỜNG SA IS OPH MINE AND WILL ALWAYS BE MINE!!! DELETE XISHA, NANSHA, TÂY SA, NAM SA!!!
Hà Nam TQ - Yuo are phake Hà Namball
Nam Việt Nam - ĐỊT MẸ QUÂN BA SỌC BÚ LỒN MẼO! YUO IS OPH PHA-KE!!! YUO STAY OPH DEAD!!! HE IS SO EASY TO KILL! 1975 BEST YEAR OPH MY LIPHE!!!!!!!! ... Stop reactionary! Stop anti-communist! We love Cao Ky! Pls behave like him! We are all Vietnamese, right? But iph yuo dont listen, there's nothing yuo can do about it. REPUBLIC OPH VIETNAM IS DEAD! HAHAHA, now you're side with me as a ghost sometimes.
Khmer Đỏ - CRAZY GENOCIDAL PHREAK! ENJOY YOUR STAY IN HELL, POL POT!!!!! YOU WANTED TO WIPE ME OUT BUT YOU PHAILED!
Mỹ (formerly) - PH*CK YUO I AM STRONKER THAN YUO!!! NEVER PHORGET IN THE VIETNAM WAR WE CAN DEPHEAT YUO BY HIDING IN TREES!!! (but actually, Richard Nixon made your forces retreated. That's a good thing...)
How to draw
Drawing Vietnamball is SUPER easy:
Colour the basic circle shape red
Draw a yellow five-pointed star in the middle
Draw the eyes and you have finished. You can also draw a nónlá (straw hat) for an addition.
Some interesting facts
Vietnamball is one of the oldest countryballs in the world, even older than Japanball.
Vietnamball is also one of the fastest economic growth countryballs in the world.
Although he is part of East Asian culture, he used to have Southeast Asian culture in ancient times quite similar to his ethnic minorities before being Sinicized.
Some current studies show that VănLangball (the ancestors of Vietnamball)MAY have a script similar to its brothers. But they were destroyed by ancient Nanyueball.[9]
Imperial Citadel of ThangLong was in the past a giant palace of Vietnamball. It is bigger than the Imperial City of Hue. But it was very badly destroyed.
QuangBinhball province has a beautiful PhongNha cave is a World Natural Heritage, It also has SonDoong cave which is the largest natural cave in the world.
Quotes
dảk (dark)
bủh (bruh)
dảk dảk bủh bủh lmao
"Phuck yuo China!"
"Hue is mine! Not Brazil's!"
"Vietnam Stronk! I can into winning war! Now can gib investment."
"I kicked China, the Mongols, China (again!), Siam, China (again!!), Japan, France, Murica, China (again!!!), Khmer Rouge & your ass"
"Get ya asses out of here"
"Đ*t mẹ mày!" (Translation: Ph*ck your mom!) - Vietnamese warcry
"All I do is Nguyễn Nguyễn no matter what!"
"Nam! Get the AK"!
"Cô là ai!?? Cháu không biết!! CÔ ĐI RA ĐI!!!!" (traslation: Who are yuo??? I dunno know you!! BEGONE THOT!!!)
"Almost Anarchy, here is the link
"con cặc" (traslation: dick)
"VIỆT NAM VÔ ĐỊCH!!!!!!!!!" (traslation: VIETNAM CHAMPIONSHIPS!!!)
"Vô lí nhưng rất thuyết phục" (traslation: Nonsensical but very persuading)
"Được của ló :))" (traslation: Its ocay)
"Toang!" (traslation: Crap!)
"Thời gian như chó chạy ngoài đồng" (traslation: Time's like dog running in the field)
==="Vô văn hóa" (Translation: Uncultured)...=== ≈ ignorance
"Không làm mà đòi có ăn thì ăn đầu b**i, ăn c*t" (Translation: If you want to eat, but you don't work, then eat d*ckhead, eat sh*t!)
Thăm ngàn! Kẹp ngần! (stole it from Thai: thangan, kebngein)
Tôi là bậc thầy đánh rắm huyền thoại (I'm the legendary fart master)
Kháng Chiến thắng lợi muôn năm! (traslation: Resistance war victory viva!)
1, 2, 3, 4, 5, 6, 7, 8, 9 (Ytiet)
I don't scare of Jonathan Galindo! I like pranking him!
Tôi là đệ nhất quốc sư Hoa Kì Trần Dần (I'm the stronkest national professor of the USA - Tran Dan) (from a reactionary guy)
Nam Ngư muôn năm (Namngu viva!) (a Vietnamese fish sauce firm)
Rất gì và này nọ (They are just like "what-the-fuck" things out there!)
"Bà con, ai gặp các vấn đề về xương khớp gọi cho tôi. Tôi cam kết chữa khỏi 100%" (The Vietnamese medical ad on YouTube(ULTIMATELY CRINGE))
Flag Colors
Color Name
RGB
CMYK
HEX
Maximum Red
218, 37, 29
C0-M83-Y87-K15
#DA251D
Yellow
255, 255, 0
C0-M0-Y100-K0
#FFFF00
Gallery

Related templates

 PTSD Socialist Republic of Rice Fields Việt Nam 
Municipalities
Cần Thơball • Da Nangball • Haiphongball • Hanoiball • Ho Chi Minh Cityball
Former entities


★

Migrants from North (Indochinese natives) • Hồng Bàngball • Kingdom of Funanball • Nanyueball • Champaball • Kingdom of Dai Vietball • Kingdom of Vietnamball (Vietnamese Empireball) • French Indochinaball • Empire of Vietnamball • Provisional Government of Vietnamball • • State of Vietnamball • North Vietnamball • South Vietnamball • Provisional Revolutionary Government of the Republic of South Vietnamball
Community content is available under
CC-BY-SA
unless otherwise noted.