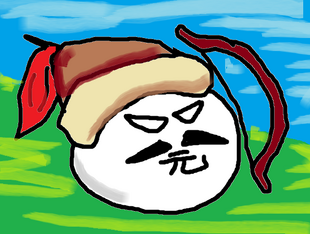 Relations and opinions
Friends
Is of importants
Can into space?
No, trying to get into Japan
Yuanball
was a stronk Chinese-Mongol nomad of the

Mongol Empireball
 (basically the Chinese dynasty within the Mongol Empireball) with too much anschlussed clay. It got eventually exiled out of China by
Mingball
and the Manchus of
Qingball
.
Relationship
family(good)
family(bad)

 stupid dumb Hulagu and

idiotic impostordid not follow my father's rules by persecuting

Muslims!
friends
Ayutthayaball - A peaceful Thai who respected our campaign.
Islam - The religion of a few of My generals. Unlike fake Mongols Ilkhanate and Chagatai, I respected this religion.
neutral
enemies
Gallery
Community content is available under
CC-BY-SA
unless otherwise noted.