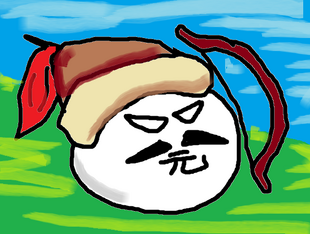 Affiliation

Mongol Empireball
Religion

Buddhism

Tengriismball

Shenismball
Daoismball

Confucianismball

Shamanismball

Christianity

Manichaeismball
Relations and opinions
Friends
Is of importants
Can into space?
No, trying to get into Japan
Yuanball
was a stronk Chinese-Mongol nomad of the

Mongol Empireball
 (basically the Chinese dynasty within the Mongol Empireball) with too much anschlussed clay. It got eventually exiled out of China by
Mingball
and the Manchus of
Qingball
.
Relationship
Gallery
Comics
Tringapore_Yuan_Dynasty.png
Community content is available under
CC-BY-SA
unless otherwise noted.